In the old days, increase in productivity simply means putting in more hours. But that means sacrificing previous time away from family, friends and doing the things you love.
With 3 young kids, my business commitments and volunteering activities I'm involved in, time is a precious commodity. I love what I do but I also do not want to miss my kids soccer class because of work.
Luckily for me now, there are many apps and tools that I could easily adopt and make me as productive, if not even more, without putting in extra hours.
And many of these tools and apps are free. You just need to spend a bit of initialization time to get acquainted with them. But trust me, it is time worth investing in because the reward is simply enormous.
[et_bloom_locked optin_id="optin_11″]
Click on the image below to start your download.
content [/et_bloom_locked]
My toolkit
1. Buffer
Buffer is a software application designed to manage social networks, by providing the means for a user to schedule posts to Twitter,Facebook and Linkedin.
I'm pretty active on social media but it can be really tedious to manage all the different platforms. Right now I have a Facebook page, Twitter account, LinkedIN, Google+ and occasionally I would update Instagram.
Last time I would have to replicate the same message over each of the platforms one by one. It's painful and I often make errors.
Buffer helps me to manage my Facebook Page, Twitter and LinkedIN from a central dashboard so I would push the message out via Buffer and it would distribute to various platforms.
The best part is you could pre-defined the schedule for each platform. So if you believe viewership is highest on your twitter if it gets published at 12pm on Wednesday, you could set that up.
And each network can carry a unique schedule.
I'm currently on the free plan so I only have these 3 connected. If you upgrade to the paid version, you could have up to 10 different networks including Pinterest.
Buffer can also be integrated with the share function on your phone. Many of the articles that I shared online are usually push out from my mobile phone.
2. Chrome
Google Chrome is a freeware web browser developed by Google.
I have tried every browser in the market. From IE to Firefox to Opera to Safari and to Chrome. I was on Firefox a few months back but decided to switch back to Chrome.
Firefox is much snappier but benefits of Chrome outweighs Firefox. There are some apps that Chrome has that Firefox doesn't.
Plus Firefox does not have an iOS version. Chrome does and that means I could read something on my computer and carry on from my phone since they are in sync.
My Chrome App launcher also allows me to easily bring up Skype, Slack, Sunrise and Wunderlist. I also have shortcuts to Buffer, HootSuite, Evernote Clipper, Dashlane and SimiliarWeb so I won't have to shuffle between apps since that can result in a lot of unnecessary transition time.
3. Dashlane
Dashlane is a password manager app and secure digital wallet that provides solutions to the problem of password fatigue. The app is available on Mac, PC, iOS and Android, and described by the New York Times as "one of the best".
Don't we just need another password to remember. Dashlane does all the remembering for me by safekeeping all my different passwords and letting me access them with a master password.
This program comes with browser extensions. Once installed the app could even help you to fill in online forms based on what was entered during setup, saving you precious moments that you could use in watching another YouTube video.
You could even enter in your credit card details you don't have to fill them in again the next time you do your online shopping.
If you upgrade to the premium version, you could sync your passwords across devices and all your passwords will be backup so you won't ever lose another one.
4. Drive
Google Drive is a file storage and synchronization service created by Google. It allows users to store files in the cloud, share files, and edit documents, spreadsheets, and presentations with collaborators
With many things done on the go, I need to be able to access my files anywhere I go. There are quite a few options in the market.
I have tried Dropbox, OneDrive and Google Drive. I think they are all equally good but I settled on Google Drive since it could store my Google Docs and Sheets too.
I get 11GB of free space which is more than enough for me.
5. Evernote
Evernote is an American independent, private company offering a closed source freemium suite of software and services, designed for notetaking and archiving. The company's flagship product allows users to create a "note" which can be a piece of formatted text, a full webpage or webpage excerpt, a photograph, a voice memo, or a handwritten "ink" note.
Notes can also have file attachments. Notes can be sorted into folders, tagged, annotated, edited, given comments, searched, and exported as part of a notebook.
This has become my favorite notes taking tool. There are so many different uses of Evernote that it can be quite overwhelming for any first timer.
I don't use every single features. What I do use is to store a lot of articles that I curate from the web which I often make reference to.
It also come with a Chrome extension – Evernote Clipper. With it, I could simply hit the icon at a website and the tool will automatically identify the article, clip it and save it into Evernote.
Due to the integration with Chrome, when I google for something it will also return results from Evernote.
6. Google Photos
Google Photos is a photograph and video sharing and storage service by Google. It was announced in May 2015 and spun out from Google+, the company's social network.
My first iPhone was only 16gb. After going through rounds of photos/videos/app deletion to make room for more stuffs, I reluctantly upgraded to the 128GB version.
If I had Google Photos back then, the upgrade wouldn't have been necessary.
Google Photos stores a version of my photos and videos on their server. There is an option of unlimited storage if you are not particular about resolution. Even so, the resolution at limited version isn't that bad after all.
Many of my blog photos are not uploaded onto WordPress. Instead I would go to Google Photos and copy the image url across, saving me time spent on uploading photos.
Google Photos also have a web version so that makes copying of url really easy.
7. IFTTT
IFTTT is a web-based service that allows users to create chains of simple conditional statements, called "recipes", which are triggered based on changes to other web services such as Gmail, Facebook, Instagram, and Pinterest. IFTTT is an abbreviation of "If This Then That" (pronounced like "gift" without the "g").
One of my recipe is to automatically save Facebook photos that I'm tagged in to iOS photos, saving me hours going through photos timeline to pick them out.
Another really cool recipe is to automatically send out a Thanks for the birthday wishes! post on my Facebook every year on the 13th of Nov 11:59pm.
8. MailChimp
MailChimp is an email marketing service provider, founded in 2001. It has 7 million users that collectively send over 10 billion emails through the service each month.
If you got to know about this post via email, you are one of my mailchimp subscribers. I uses it to manage the subscribers on both of my websites over 5 different campaigns, depending on the interest of the subscribers.
With it I could easily communicate with my readers about the latest updates and posts whenever they are available.
What I love most about it is the RSS-to-Email function. This means every new blog post will be picked up by Mailchimp, converted into a newsletter and send out to my subscribers. And this is done with zero human intervention, just the way I like it.
9. Office Lens
Microsoft Office Lens is a OneNote companion app designed to trim, enhance and makes pictures of whiteboards and documents readable and converts images to PDF, Word and PowerPoint files.
Often the easiest way to brainstorm is to scribble in a notebook or, my favorite, to write on a big whiteboard. The space gives your mind the perfect canvas to stretch your imagination and innovate.
But to gather those scribbles to continue working on them could be a hassle.
Office Lens let me capture the writings and instantaneously convert onto a canvas that could be saved into your photo albums or even in a word document.
One really neat feature is how you could capture the image at an impossible angle and yet it could correct it to make it seem like you took it right in front.
10. Outlook Mobile
Outlook Mobile (formerly Acompli) is a mobile personal information manager for Android, iOS and Windows 10 devices.
The app was designed to provide comparable to similar apps on personal computers, as opposed to splitting functionality into multiple, focused apps.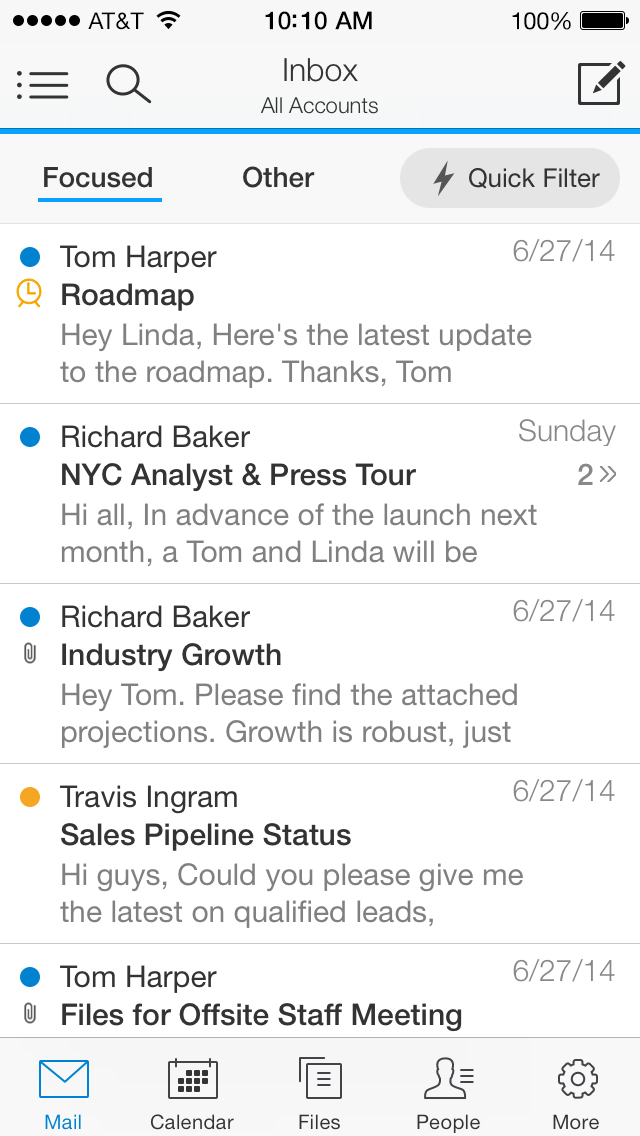 As much as I love Apple Mail, you gotta acknowledge the limitation.
Outlook Mobile allows me to check my calendar within the app. You could also connect it to your Dropbox or Google Drive so you could finally send an attachment (as a link) via email.
I also love the Focused Inbox function. It presorts my email and categorizes them into Focused or Other. Generally you would get your newsletter into Other whereas emails from an individual would go under Focused. This helps me to priortize what needs to be responded to since not every single email carry the same level of urgency.
And if you are like me and always forget to reply to those emails (but hate seeing them in your inbox), you could make them disappear and reappear at a later time.
11. Play Books
Google Play Books (formerly Google eBooks) is a cross-platform ebook application offered by Google. Users can purchase and download ebooks from Google Play, which offers over 5 million ebooks and as such is the world's largest ebookstore. The user may also upload up to 1000 ebooks that are in PDF or EPUB formats to their Google Play Books account cloud storage, and synchronize them between multiple devices.
This is one of the most recent tool I discovered after trying out many others.
With a busy schedule, it is tough to make time for reading. It is completely impossible when it comes to physical book. I still have a shelves full of books that aren't even opened.
Google Play Books allow me to upload my ebooks and synchronize across my PC and mobile devices. So I could start reading on the phone, bookmark it, and continue from my computer.
That helps me to catch up on my reading whenever I have some slack time such as waiting for things or if I happen to be taking public transit.
12. Scannable
Evernote Scannable is a scanning app that includes an automatic scanning feature that allows users to scan a document simply by launching the app. Upon launch, the app will locate the document in the camera's field of view, initiate the scan and sharpen the contents to improve image quality.
Scannable is similiar to Office Lens except that it connects with Evernote (developed by the same company). If you scan a business card, it could automatically create the contact for you and cross reference to LinkedIN for additional information to add in.
So instead of entering a name card manually into your phone and check their LinkedIN to connect, you could simply snap and forget.
13. Slack
Slack is a team communication tools that brings all your communication together in one place. It provides real-time messaging, archiving and instant search.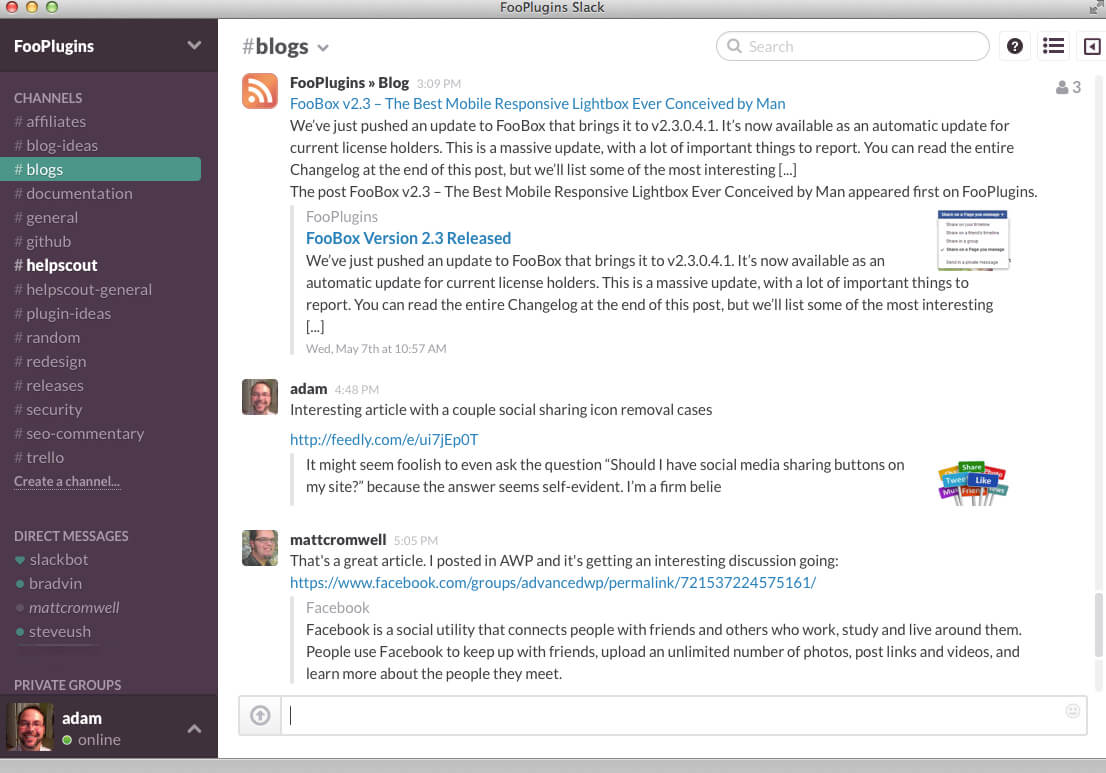 I was pretty skeptical of Slack initially. What could they possible do that Whatsapp isn't already able to?. I gave it a go and was proven wrong.
The sheer positioning of Slack as a productivity tool means you seldom go off topics during discussion. It is mostly about work and stays that way.
The ability to hashtag different topics provides targeted information dissemination. Unlike a single group chat where everyone get to see every thing even if it isn't relevant, threading the topics let you invite relevant parties only and preventing information overload for everybody.
14. Stickies
Stickies is an application that puts Post-it note-like windows on the screen, for the user to write short reminders, notes and other clippings. Contents are automatically stored, and restored when the application is restarted.
I use it to take short notes and things that I like to be reminded of on a constant basis.
You could re-size it, customize the color/fonts and pin it to the top so it will always be visible even if you have other windows opened.
In my previous workplace, I also make use of their network function to send stickies to other users across the local network. That was neat back then but Slack would remain my current recommendation for such communications.
15. Sunrise (Defunct)
Sunrise is an electronic calendar application for mobile and desktop. It was initially launched as an iPhone application and extended to Android as well as on the web via a web application.
Sunrise allows users to connect with Google Calendar, iCloud calendar and with Exchange Server. The following third-party services feature integration with Sunrise: Foursquare,GitHub, TripIt, Asana, Evernote, Google Tasks, Trello, Songkick.
I can't imagine going back to the default Calendar app on my iPhone. Sunrise Calendar is so much more comprehensive. I use it to sync up all my calendars (Office365, Google, Facebook, LinkedIN, Twitter and Evernote).
It also carry a keyboard extension Meet. You know how frustrating it is to schedule meetings when both parties don't know each other schedules to begin with.
Meet let you pick your available day/timing from your keyboard and send it across as a url that the reader could open up on a browser and confirm the slots they like to meet you on.
16. WordPress
WordPress is a free and open-source content management system. They are the most popular blogging system in use on the Web, at more than 60 million websites.
As you know I write a lot. Not just on my two websites but I also contribute content to Straits Times, Singapore Business Review, HRinAsia, TheMiddleGround and most recently, Recruitment Juice Blog.
With the sheer number of articles to churn out each week, it is really easy to get into writer's block. To work around that, I use the WordPress mobile app to quickly capture any inspiration I might have and save it as a draft.
This article that you are reading now was one of those draft.
In addition I could also do a quick check on the traffic to my websites to see if I'm hitting my traffic objectives.
17. Wunderlist
Wunderlist is a cloud-based task management application. It allows users to manage their tasks from a smartphone, tablet and computer.
I experimented with quite a few to-do list apps but nothing beats Wunderlist. It allows me to categorize different lists, add reminders, set recurrence and the best part is the ability to share the list with another user.
My wife and I share a groceries list so we just enter the things to buy individually to create a master list.
I can also enter in a task and assign it to her. With 3 kids to handle, every bit of efficiency helps in shaving a few minutes off here and there to make up for lost time.
18. Zapier
Zapier lets you easily connect the web apps you use, making it easy to automate tedious tasks and skip those expensive programmers to build the integration for you.
I can't imagine anyone not using Zapier to make their life and work more productive. Zapier lets you easily connect the web apps you use, making it easy to automate tedious tasks.
It's similar to IFTTT but Zapier caters more for work as it integrates with tools such as Salesforce and Xero.
I was using Xero for our accounting and set a zap (their version of IFTTT's recipe) to trigger an email to finance when a draft invoice is created (which is created by our sales people via CRM). This way, finance do not have to check in regularly for new invoices to approve.
Another zap that I like is to automatically subscribe paypal customers to my mailchimp list. This saves me the onerous task of copying-and-pasting a customer's email address over to my newsletter list.
19. Zoho Invoice
Zoho Invoice is a simple, intuitive invoicing software designed to help you craft the perfect invoice, track payments and get paid faster online.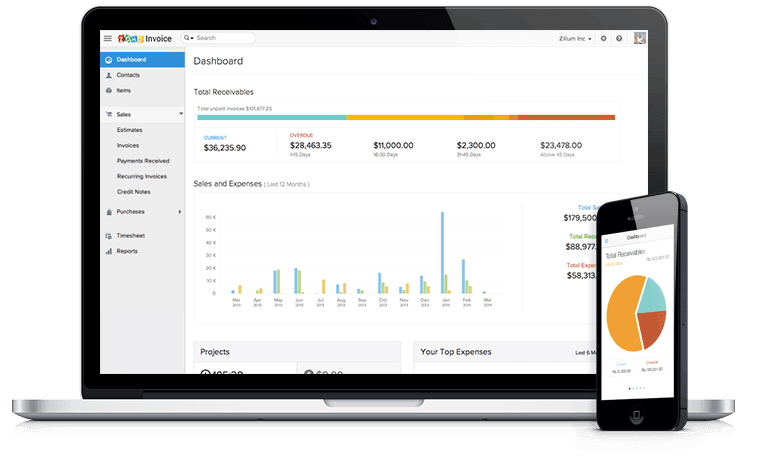 For such an affordable tool, you are blown away by how feature rich it is. The most expensive plan Zoho Invoice has is only USD$30 per month. And this is per organisation, not per user.
I uses it to generate and manage all my business invoices. It has a time-saving auto reminder tool which automate overdue invoice emails to clients.
With a mobile app, I can easily generate an invoice on the go. And if you are on the paid version of Zapier, you could even create a Zap to generate an invoice every time there is a successful sale via PayPal.
Conclusion
There might be a lot of other tools and apps that are readily available to help you achieve balance in your life and shave a few hours off your busy life. It only takes a bit of time to source and test them out. I hope my list of tools will be a good starting point for you.
[reminder]Are there any tools or apps that is helping you to save time or to be more productive?[/reminder]